Sonic Cameos :: Index
Sonic has a habit of popping up in games other than his own, sometimes even the games of competitors! But perhaps more incredible, Sonic has also appeared outside of the gaming world in TV shows, comics, and even parades. This page will give you a little history on the blue blur's photo-ops that did and didn't give him the glory.
Daytona USA (Arcade / Saturn)
Sonic appears engraved into the side of a mountain in "777 Speedway," the beginner's track. It's easiest to see in the first person view, but it's hard to miss period.
Wacky Worlds: Creativity Studio (Genesis)
Sonic is used to travel from world to world in a spaceship on the main menu. The game is controlled with a mouse, so no advanced animation was used - Sonic was essentially the cursor. Once in a world, in the stamp mode, Tails was a fully animated character that would walk around and perform random actions and could be placed anywhere. There was also a Sonic painting that could be placed on walls, as seen in the background of the second picture.
Billy Hatcher & the Giant Egg (Gamecube)
Sonic is hidden inside a Sonic Team egg in a few of the levels of Sonic Team's own "Billy Hatcher & The Giant Egg." Sonic is used as a partner in defeating enemies and collecting items. Images courtesy of IGN.
Feel the Magic: XY/XX (Nintendo DS)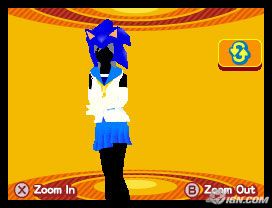 Sonic Team started a trend of DS easter eggs with Feel the Magic. Simply put a Sonic Advance 1,2,3, Sonic Battle, or Sonic Pinball Party game into the DS's GBA slot and boot up the Feel the Magic to unlock a Sonic and Chao hairstyle. Other compatible games are ChuChu Rocket, Space Channel 5: Ulala's Cosmic Attack, and Puyo Pop, which can be used to unlock NiGHTS and Ulala hairstyles. Images courtesy of IGN.
Shenmue (Dreamcast)
Sonic and company (Tails, Amy, Knuckles, Espio, Nack/Fang, Bean, and Bark) are found in the form of plushie dolls in vending machines located throughout Shenmue. NiGHTS is also in the machines.
Donkey Kong Country 2 (SNES)
Sonic's sneakers appear next to a sign that reads "No Hopers" in "Cranky's Video Game Heroes, where Diddy is ranked on heroism based on how many coins he's collected. Earthworm Jim's blaster is also pictured under the sign.
Phantasy Star Online: Episode I (Dreamcast)
Sonic Team used Sonic and company in a test version of the online server during a demonstration. They were also seen in the PSO lobby on Sonic's birthday.
Crusader of Centy (Genesis) - Submitted by Jerome Dimartino
Crusader of Centy was a Genesis RPG developed by Nextech and published by Sega. Sonic makes a little cameo appearance on "Anemone Beach."
Gale Racer (Saturn) - Submitted by Snack
Known as Rad Mobile in the arcades, Gale Racer was a Sega Saturn racer developed and published by Sega. Sonic appears in place of fuzzy dice hanging in front of the windshield in the driver view.
Christmas NiGHTS (Saturn)
Christmas NiGHTS was a free "demo"-like game packed into Sega Saturn Magazine as a Christmas gift from Sonic Team in 1996. It featured Sonic as an unlockable "present," giving you the ability to play as him in the Spring Valley level in Time Attack mode.
Image Courtesy of The Green Hill Zone.
Tom & Jerry: The Movie (GameGear) - Submitted by Snack
The game was actually better than the movie, but that doesn't say much. Sonic appears in an advertisement in the window of the "bookshop" at the beginning the second level.
Beach Spikers (Gamecube)
The Sonic statue on the "Sega" court is clearly the focus of this screenshot of Beach Spikers, Sega's all-female beach volleyball "simulation." Apparently, Sonic is happy watching over this un-suggestive, completely clean sports event.
Image courtesy of Gamespot.
Virtua Striker 3 (Dreamcast)
Sonic makes yet another sports outing in Virtua Striker 3, but this time he actually plays, making it one of his first real sports appearances. The whole crew is there to play also - Coach Naka even sits on the sidelines. Ironically, soccer is probably the only sport Mario doesn't play. [Note from Gamerguy: I swear, a month after I added this cameo with that comment, this came up.]
Streets of Rage 3 (Genesis) - Submitted by Snack
You won't find Sonic in the wasteland level of the final game - he was only in the BETA version. Luckily for us, the BETA was leaked and we can share the screenshot with you.
IllBleed (Dreamcast) - Submitted by Ravage
A boss by the name of "Zodick the Hellhog" bears more than just a slight resemblance to Sonic in Sega's ill-fated survival horror Illbleed on the ill-fated Dreamcast. The boss spews rings when it receives damage.
Macy's Thanksgiving Day Parade
Sonic made history as the first video game character to star in the famed Macy's Thanksgiving Day Parade in 1993. He was the only game character to fly the skies until Nintendo commissioned the Pikachu float in 1999. In addition to being the first video game character, the float was also one of the larger ones at its debut. The complete stats on the balloon's exact weight and dimensions will be available soon.